Events/Conferences
,
Face2Gene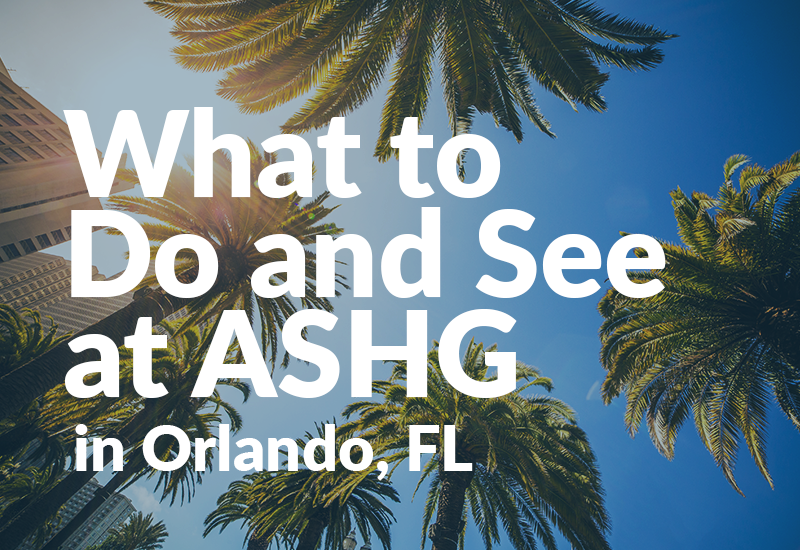 The American Society of Human Genetics 67th Annual Meeting (ASHG 2017)
Orange County Convention Center · Orlando, Florida
October 17-21, 2017
Orlando, FL – The Face2Gene team has started packing to attend the 67th ASHG Annual Meeting in sunny Orlando, FL. ASHG is the world's largest gathering of human genetics professionals, bringing in members and scientists from all over the world to share their research. You can see our top picks of what to do and see at ASHG below. Interested in scheduling a meeting with a member of our team? Contact us! Or stop by Face2Gene at booth #632 during exhibition hours to learn more about Face2Gene.
ASHG 2017 | Orange County Convention Center | #ASHG17
TALKS
Face2Gene's Exhibitor Education Event

Join our expert panel for a discussion focused on the utilization of Face2Gene for clinical data analysis, discovery and improvement of the diagnostic odyssey
Face2Gene: Facial Analysis for Rare Disease Variant Prioritization and Research Discoveries
Speakers:
Yuri Zarate – Associate Professor, Section of Genetics and Metabolism University of Arkansas for Medical Sciences
Ghayda Mirza – Assistant Professor, Human Genetics, Seattle Children's Research Hospital
Kellie Walden, MS, CGC –  Laboratory Genetic Counselor, Greenwood Genetic Center
Cara O'Neill – VP, Scientific Director, Cure Sanfilippo Foundation
Mark Yandell, Ph.D. – Professor of Human Genetics, The University of Utah
Moderated by  Sarah Savage, MS, CGC – Director, Product Engagement, FDNA
When: Thursday, October 19 from 12:30 PM – 1:45 PM
Where: Hilton Orlando Hotel, Lake Sheen, Lobby Level
Diagnostic Challenges Session
Sponsored by FDNA, Featuring Face2Gene
Registrants have the opportunity of bringing and presenting rare and unknown cases to a panel of expert clinical geneticists. Along with each case presentation, there will be an interactive, back-and-forth discussion of differential diagnosis, treatment, and counseling options between the audience and the panel.
When: Thursday, October 19 from 6:45 PM – 8:45 PM
Where: Convention Center Room 310A, Level 3
Organized and moderated by Karen W. Gripp, A.I. DuPont Hospital for Children and Pedro A. Sanchez, Children's Hospital Los Angeles.
See the ASHG Schedule to Learn More
POSTER
SATB2-associated Syndrome: Mechanisms, Phenotype, and Practical Recommendations
Presenting Author: Yuri A. Zarate, MD, Arkansas Children's Hospital
Session Assignment: Mendelian Phenotypes. Learn More
When: Thursday, October 19 from 2:00 PM – 3:00 PM
Where: Exhibit Hall, Level 1
Treasure Hunt
Join the Face2Gene Treasure Hunt!
First, visit Face2Gene at Booth #632 to pick up a map. Then visit up to 12 partner booths to collect stickers. Come back to the Face2Gene booth before the end of the conference to collect your prize. You could take home a portable charger, Face2Gene t-shirt or mobile wallet (while supplies last).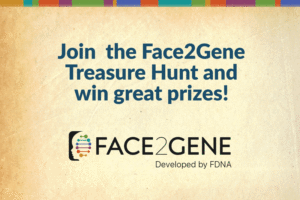 Get a Head Start! Sign up for Face2Gene Now
You can earn your first sticker in advance. If you haven't already, sign up for Face2Gene on your computer or by downloading the app on your mobile device for iOS or Android. Use the activation code "ASHG17" to fast-track your verification. When you pick up your map from Face2Gene at booth #632, you'll already be one step ahead of the competition. Prizes are available while supplies last so we suggest you pick up a map and get started early.
Sign Up for Face2Gene. Use the activation code "ASHG17" to fast-track your verification.
Our Treasure Hunt Partners & Proud Supporters of Face2Gene Labs:
FUN
Opening Network Reception
ASHG has planned an evening full of entertainment for networking and socializing to kick start ASHG 2017, Orlando. You are invited to relax and enjoy the evening with fellow attendees (whom share the same love of genetics as you) with an exciting matching game, refreshments, and lawn games. In addition, there will be a live performance by a special musical guest! You can find more about the ASHG Opening Reception here.
When: Wednesday, October 18 from 7:00 PM – 9:00 PM
Where: Hilton Orlando, 6001 Destination Parkway, Orlando, FL 32819
What To Do & See in Orlando
Orlando Science Center Learn More
Skeletons: Museum of Osteology Learn More
Harry P. Leu Gardens Learn More
Explore Orlando: Neighborhoods to Discover Learn More
For more ideas, check out Trip Advisor's List of Top Attractions In Orlando
ASHG's Orlando Meeting Info Learn More
Announcements
POSSUMweb is Coming to Face2Gene LIBRARY
Face2Gene LIBRARY will soon include POSSUMweb, alongside London Medical Databases. With this exclusive integration, Face2Gene LIBRARY will be the most comprehensive medical genetics resource in the world.
POSSUMweb's database integration will provide insights on more than 4,000 syndromes, including multiple malformations, metabolic, teratogenic, chromosomal and skeletal syndromes
"Integration of POSSUMweb with Face2Gene vastly increases the amount of data, images and insights available to our users," said Dekel Gelbman, CEO, FDNA. "Instant reference capabilities will help clinicians greatly shorten the diagnostic journey for patients struggling with undiagnosed genetic diseases." Learn More
We look forward to seeing you soon in Orlando! If you have any questions leading up to the conference or would like more details on any of our hosted events, please contact us at marketing@fdna.com.